ON THE BLOG: Professional Development Opportunities
To complement the launch of British Council Film and BFI NETWORK's new travel grant scheme designed to support filmmakers in the development of their skillsets, networks and feature projects internationally, we've compiled a handy toolkit for how and why to apply to the labs and programmes supported by Creative Europe's Training scheme. 
Each year the MEDIA sub-programme supports around 60 international training programmes, allowing audiovisual professionals from across the world to meet, share their experiences and learn from both experts in the field, and each other. Last year almost 200 UK professionals took part in the courses on offer.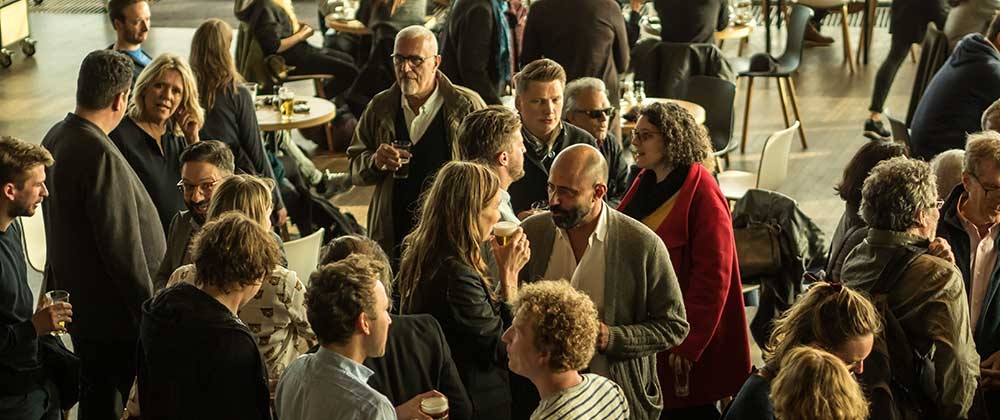 "Given funding and co-production challenges, it is all too easy to drift into a wholly mid-Atlantic mindset. In the long run, for individual companies/filmmakers and the sector as a whole, those mid-Atlantic blinders have a way of reinforcing many of the barriers that still bedevil UK film, particularly with regard to class and region.
For me, participating in labs and networks like Biennale College, EAVE, and Rotterdam Lab has proven crucial to navigating around and through those barriers. It is an investment not just in short-to-medium term returns on specific projects but in a more constructively European future for your company and for the wider UK industry." Benjamin Young, member of EAVE and Biennale College network and participant in 2019 Rotterdam Lab
ACE
Advanced producers with proven experience in their own countries and an interest in co-production. 
The training focuses on the unique responsibilities of the producer throughout the whole process of a project's development, production, marketing and delivery to audiences. After completing the ACE programme of advanced training, which consists of three workshops during one year, network members gather for further training and professional events at all major festivals and markets during the year, and regularly co-produce with each other. The 2020 reunion will take place in Scotland, with members and alumni able to participate in special sessions, exchange news and foster new collaborations. 
Read our blog interview with UK producer Emily Morgan on her experience participating in ACE 28.
Applications for ACE 29 are now closed, but are expected to open for their next edition in early 2020. Stay up-to-date via their website. 
Watch an introduction to the training programme here:
EAVE
EAVE is aimed at producers and audiovisual professionals working in fiction, documentary and TV who have established themselves in their own country and now wish to work in the wider European industry.
EAVE graduates join a unique network of active European producers which forms one of the backbones of the industry. Furthermore, EAVE participants and members benefit from our partnerships with the leading European film festivals and markets where EAVE facilitates graduate participation.
Read our blog interview with UK producer Rosie Crerar on her experience participating in the EAVE Producers Workshop in 2017. 
The 2020 Producers Workshop is currrently open for applications. Apply before 30 August 2019. 
The 2020 Marketing Workshop will open for applications in August 2019. Stay tuned for updates.
"EAVE's Marketing Workshop provided a unique opportunity to focus on devising our project's distribution strategy, working alongside active experts in sales, distribution, PR and marketing. Everyone on the team provided a different international perspective and was generous when sharing their knowledge and feedback. Additionally, the chance to connect with other filmmakers from across Europe to exchange ideas and industry experiences was a huge benefit and super enjoyable." Daniel Diaz, EAVE Marketing Workshop participant, 2017
I'm only 1/3 of the way through but can categorically state that I would have retired 6 months ago had I not been on EAVE this year. UK #Producers APPLY! 
— Elhum Shakerifar (@lalalooms) June 17, 2019
Rotterdam IFFR
In order to take part in Rotterdam Lab, it is necessary to be affiliated with one of CineMart's partner organisations. This means that instead of having an open selection participants are nominated through these partners. The participants for Rotterdam Lab are emerging producers, who should have produced at least one or two short films, and no more than two feature films. 
The aim of Rotterdam Lab is to provide emerging professionals with the means to build and develop an international network. Providing confidence and skills to navigate the world of international film financing, sales and distribution, Rotterdam Lab offers a place to over 60 producers from over 24 countries.
Read an interview with two of 2018's 'labbies' here. 
Stay up-to-date with the latest news and deadlines here. 
Venice Biennale College Cinema
Participants selected for the lab will consist of creative teams of one director and one producer currently developing a microbudget feature. For directors this must be their debut or second work. For producers they should have at least three audiovisual credits (including short films, web series, music videos etc). Producers with a feature-length credit are still eligible to participate in the Call. 
The workshop will cover the entire spectrum of the conception, development, production, direction, marketing, audience engagement and distribution of audiovisual works. The Lab also funds the production of two (or in some cases three) projects with the view to their being presented at the Venice Film Festival the following year. 
Keep an eye on this page for the Call for applications for 2020. 
TorinoFilmLab
TFL runs three programmes: SeriesLab, ScriptLab and FeatureLab for screenwriters, directors and story editors looking to develop various projects.
Each programme provides an intensive, tailored approach to project development with trainers boasting international expertise in varying aspects of filmmaking. Alongside script consultations, participants meet with experts in fields from directing, cinematograophy, post-production, financing, sales, legal and audience engagement. 
SeriesLab is currently open for applications. Check the TFL website for all the latest Calls. 
"The ScriptLab has been a really exciting and invigorating place to develop my first feature. Its helped me bring my project outside of myself into a supportive yet challenging environment which is completely international." Moin Hussain, ScriptLab participant 2019