ON THE BLOG: Insights from our European Co-Production Weekender
Creative Europe Desk UK hosted its inaugural European Co-Production Weekender, held at The Tetley in Leeds between 14 and 15 September.
18 UK-based producers were selected to take part, who have - between them - masterminded an eclectic array of British films such as God's Own County, Bait, Calibre, Saint Maud, Ray & Liz, In Another Life and Irene's Ghost. Operating from nations and regions across the country, they were selected via an application process to join leading experts in the field of co-production for a crash course in the pros, cons, complexities and rewards of this particular means of production.
The film industry is increasingly geared towards strengthening conditions for co-productions. The BFI's Independent Film Commission - published in 2018 - recognised the importance of maximising international cooperation. Whilst Creative Europe's Work Programme for 2020 will prioritise incentivising cross-border collaboration and networking and support for the distribution of international co-productions. Our weekender was designed to provide UK producers, with varying levels of experience, a foundation upon which to build their knowledge of co-productions and how to mount them. 
CREATIVE EUROPE & CO-PRODUCTION
Director of Creative Europe Desk UK, Agnieszka Moody began the weekend's activities on Saturday morning, after a welcome dinner the night before, to outline the Desk's desire to respond to the gaining momentum in co-productions and equip participants with the confidence and skills to tap into the co-production mindset.
Creative Europe currently supports co-production indirectly, through the four funds awarded grants in our International Co-Production Funds scheme (ACM Distribution, HBF+Europe, Berlinale WCF Europe, IDFA Bertha Fund Europe) and through Training (e.g. EAVE, ACE) and Distribution support. 
However there is evidence to suggest that co-productions are well rewarded in the MEDIA sub-programme's development schemes, with 97% of projects selected in the latest round of Single Project funding and 79% of selected Slate projects, intended as international co-productions.
DAY ONE
The first session was led by EAVE expert Lise Lense-Møller and provided a guide to the terminology around co-productions and the different agreements, regulations and routes to entering into one.
To get a flavour of what EAVE offers through its Producers Workshop, take a look at the video below.
Lise emphasised that cultural exchange was perhaps a stronger and more sustainable route to partnership than financial motivations. She said "the crucial question to ask is 'what do I have to offer?' rather than 'what do I need?'"
Lise also outlined the potential motivations and advantages of entering into a co-production, both as a lead and minority co-producer. 
Christopher Halliday from the BFI Certification Team delivered the next session, covering some of the common principles of co-production treaties, explaining the main requirements for the Council of Europe Convention on Cinematographic Co-production and the UK's bi-lateral agreements, as well as the difference between what makes an official vs. unofficial co-production. Participants were also walked through the official co-production application process for the UK. 
Access is a big part of why official co-productions are attractive. Whether in regard to tax reliefs, incentives, or other regional funding opportunities, or non-financial reasons such as talent, facilities and technical expertise. 
During the session there was a continued back and forth about budgetary reports and core expenditure, highlighting the financial responsibility that producers must shoulder, and the particular need to have conversations and further clarity about film finance.
Joëlle Levie from Olffi - the only website offering a complete database on all public funding programs and production incentives for film, TV and new media - joined via Skype to discuss the public funding landscape and how best to engage with it. 
Katie Ellen, the BFI's Senior Manager for International Distribution and Commercial Strategy and Hugo Heppell, Head of Investments at Screen Yorkshire delivered a session on UK sources of finance, providing an insight into the types of projects they look to fund.
The BFI's allocation for minority co-production is £1million, which can be used in conjunction with funds from BBC Films, Film4, Screen Scotland, Screen Yorkshire, Northern Ireland Screen or Film Cymru Wales.
Priority is given to projects where a world-class, non-British filmmaker wishes to engage with UK talent or cultural content and wherein UK involvement enhances the international appeal of a story that has been originated outside of the UK. To find out more about the BFI's international co-production funding, visit their website. 
The first day concluded with a case study on Jessica Hausner's Little Joe, a co-production between Austria (Coop99 Filmproduktion), UK (The Bureau) and Germany (Essential Filmproduktion GmbH). Bertrand Faivre from The Bureau and Bruno Wagner of Coop99 Filmproduktion were present to discuss the origins of their collaboration. 
Bertrand felt that "Little Joe is a perfect example of a good co-production…a director who has proven the singularity of her voice and can expand her audience." He spoke about The Bureau's "desire to attract this calibre of European talent" as one of the main reasons for coming on board. The track record of The Bureau also helped determine their suitability as a co-production partner. 
The producers also shared their financing plan for the film to participants, which depicted the breakdown of investment, including public funding, world sales and the producer's own investments. The main takeaway from the session was that two producers, who hadn't met before, were brought together through creative compatibility to complete a high quality production with international appeal. Bruno insisted that "we didn't think about who was the minority producer" and Bertrand confirmed "we shared responsibility and didn't think about it as 'oh that their problem'" He continued, "Of course you defend your interests, but you try and be fair and trusting."
DAY TWO
Day two began with a session from legal expert Katrien Roos from Harbottle & Lewis, who discussed the main elements of a co-production agreement such as the defining of creative roles, production tasks, financing/distribution territories and revenue sharing. 
The next panel featured producers Samm Haillay (Third Films) and Conor Barry (Savage Productions), who were on hand to debunk some myths around co-producing both with, and within the UK.
Responding to the myth that co-producers can't be trusted, Samm noted that "It's always about communication. Always respond. If you've got a question, don't be frightened of asking it."
Conor also commented that "you have to trust not only the co-producer but also their sources of finance... you need to check under the bonnet before getting into it."
In terms of whether UK financing is incompatible with the co-production model, Samm felt that "anything is possible. If you bring the right partners on board they'll move hell and high water to make it work."
Keen to dispel the notion that co-production was more time-consuming, Conor acknowledged that is was "complex but rewarding" and that ultimately "co-production is a lifeblood. The worst day in co-production is better than a day not making one."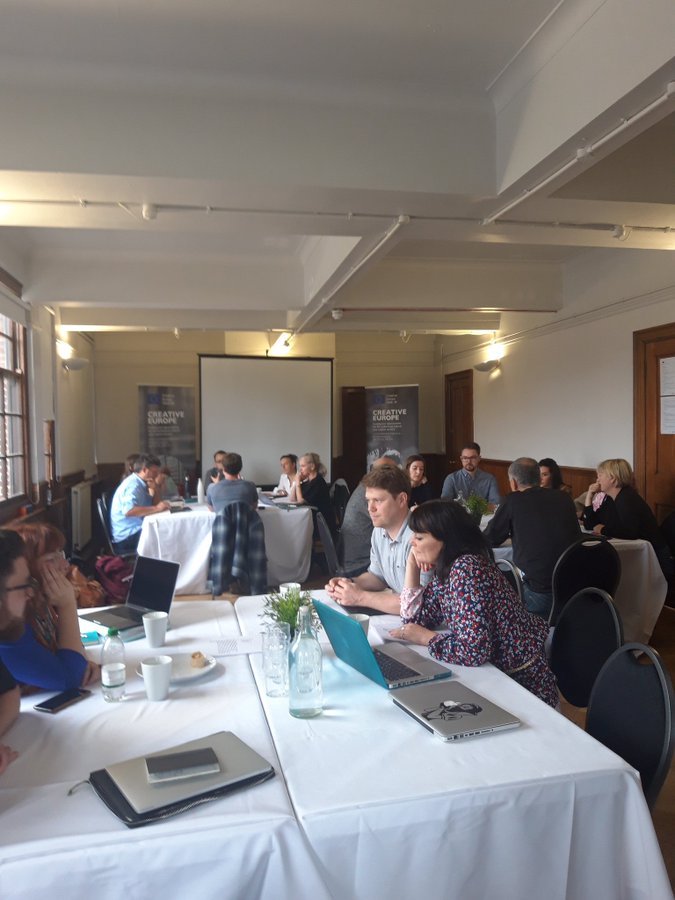 The weekender concluded with a group work session that served the purpose of encapsulating all the learnings from the weekend and allowing producers to put it in practice (albeit with less risk!) Working in groups of six, participants created financing plans for a theoretical project with each member of the group representing a previously assigned country.
Guided by team leaders Samm, Conor and Hugo, the participants decided the optimal choice of co-producing countries and then presented their plans to the room in terms of director, key cast, target audience, language, shooting and post-production locations, as well as sales, distribution and festival strategies.
And that's a wrap on our #EuropeanCoProductionWeekender. Watch this space for the fruits of our participants' labour!! pic.twitter.com/2NN9xWoC6h

— CreativeEuropeDeskUK (@CEDUK_MEDIA) September 15, 2019